World Mental Health Day 2022 - Recovery Stories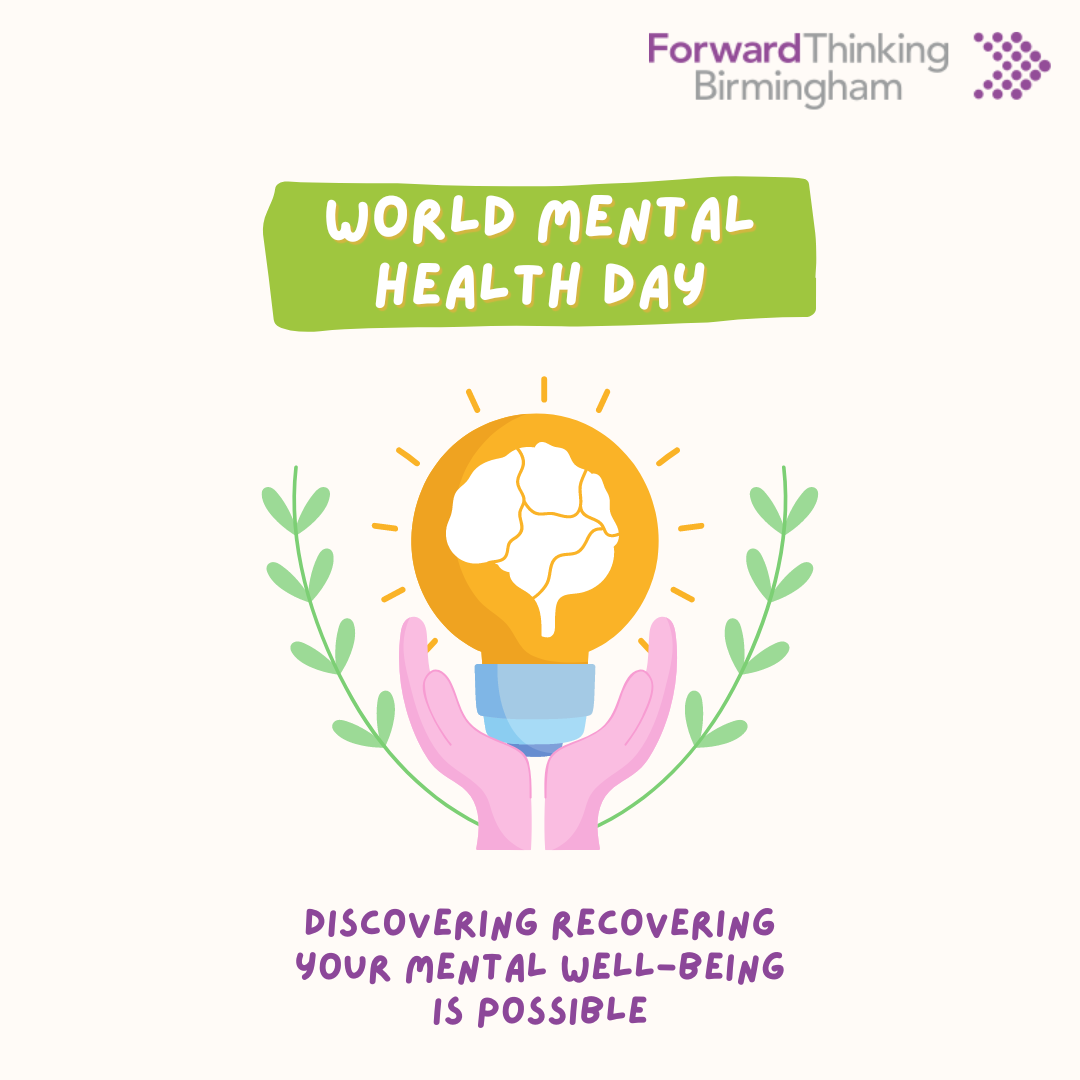 Today (10 October 2022) is World Mental Health, and today we're marking this important day with the theme of "Discovering recovering your Mental Well-being is possible." We're sharing recovery stories from our incredible young people, including our Peer Support Workers and Experts by Experience at Think4Brum, our Youth Participation group. They share their experiences of mental health and their stories of hope and recovery.
If you're struggling, there are many ways you can access support, all of which are listed at the bottom of this page.
*Trigger Warning*
The stories shared below discuss various mental health issues such as eating disorders, depression, anxiety, panic disorder and self-harm.
Kirsty's story
After suffering with bulimia, anxiety and self-harm for several years, my experiences fuelled a desire to change the mental health system, challenge the stigma associated with mental illness and help other young people struggling, to feel less alone. I consider myself in recovery from my eating disorder and now hold an interdisciplinary master's qualification in mental health with a focus on youth mental health. Furthermore, I work as part of the specialist eating disorder service within FTB as a Peer Support Worker to help young people face any recovery fears/challenges and see that recovery is absolutely possible.
My journey to recovery is without a doubt the proudest and most difficult accomplishment of my life, above any qualification or other achievement I have acquired.
I first started struggling with anxiety, panic attacks and low self-esteem early in secondary school and was surrounded by friends who struggled with various mental health difficulties. Looking back, I feel I was influenced by the behaviours of those around me and at 16 I developed bulimia to cope with my growing anxiety. When I first started engaging in these behaviours, I felt it provided me control in a world where I felt out of control. But similar to any addiction, it reeled me in with the false promise of a sense of security. Thanks to the love, support and encouragement of my family I began to access treatment and worked really hard to commence recovery and overcome the eating disorder. I was discharged from mental health services just before my 18th birthday before moving away to university. As I faced the challenges of moving hours from home to a brand-new city, living independently for the first time and sharing a flat with complete strangers, studying a degree and the societal expectation of "having the best years of your life" at university, I quickly felt out of control again. I felt very alone and worthless at this time and the bingeing and purging behaviours provided a temporary release for me, although I now realise that each episode only intensified these feelings. Due to a continued downward spiral, I was taken out of university for a period of time to be supported by my parents and work to get better. Through continuous difficult conversation, talking therapy and anxiety management techniques I was able to slowly pick myself back up. Every time I was able to challenge the eating disorder voice it felt a little easier to picture a future eating disorder free, and one where I felt fulfilled and happy.
I know things may feel hopeless, lonely, hard or sad right now but there is always reason to have hope.
Sometimes our mental illness can blind us of this reality. If you feel like nobody could understand what you're going through, it is important to remember that many people are experiencing the exact same thing right now or have been there too. I have experienced mental illness myself and have learnt so much from this, including knowing that treatment can work, and recovery is possible. A few truths that I feel helped me and are important to accept are that you are not a burden. You are not to blame for your illness and your loved ones will not leave you. Mental illness affects so many, so never let anyone make you feel strange or abnormal based on your experiences. You deserve so much more than this illness tells you. You are braver than you think and stronger than you feel. Today is not your forever. And a happy, healthy, fulfilling, and purposeful life awaits you on the other side of this illness.
Louna's Story
My mental health journey began at an extremely young age. At just 18 months I began displaying unusually forward behaviour. As I got older, I was excelling faster than normal for my age, and other worrying traits emerged. I began pulling my own hair out and also had intolerance for my clothing. I couldn't wear certain clothes unless they were inside out, otherwise I would scream because of my heightened awareness to the feel on my skin.
When I was six-years-old I was finally diagnosed with trichotillomania, a stress disorder which makes you pull out your own hair out. The previous hair tugging made so much sense after this diagnosis!
However, over the years, things continued to get worse. I was being bullied at school and my mental health was vastly declining. One of my worst episodes was when I was in Year 9. I was in maths class and I had this almighty panic attack and went into sensory overload. I felt like I wanted to physically insert myself into my classroom wall to disappear. I was frantic, desperately asking for help, whilst my friends and teachers just looked at me telling me to calm down. It was after this I pleaded to see a doctor.
After months of assessments I was finally diagnosed with High-Functioning Autism – it was a great feeling to put things into perspective and be able to feel heard and slightly understood. Following that, I was then diagnosed with Extreme Anxiety, Reactive Depression and Tic Disorder. When we explored the conditions everything began falling into place. How I used to feel in my younger years made sense, with all my sensitivities to certain things.
My mum's original reaction to my diagnosis was confusion. She had thought both my childhood and then teenage struggles were just 'toddler tantrums' and then 'puberty' until the doctors confirmed otherwise. Diagnosis was the light at the end of the tunnel because it enabled me and others around me to realise my struggles were genuine and not just passed off as me 'being silly'. Previously, my teachers' reactions were less than supportive and really made me question my own struggles and experiences. I thought I was going mad!
I then began treatment. I had many sessions with my first psychologist where we explored my past struggles from birth to now. She also pushed for me to become home-schooled which was a huge relief! I cannot thank her enough for helping me to understand myself. Suggesting I read books like 'Aspergirls' so that I could identify any similarities. It was amazing to feel like my life was being written on paper but by someone else. Eventually, I started 'mental health sessions' where we spoke about my feelings and tried to understand my triggers, discuss preventative methods and also self-help and self-care. With the guidance and validity from my mental health nurse I learned I could only be my best self, once I helped myself. A year later I was discharged!
I look at my life with a mental health diagnosis right now as being a beautiful story of pain, struggle, acceptance, discovery, growth and light.
I have become the person I am today because of my past and present struggles.
Without them I wouldn't be as strong, resilient and quirky. My desire and passion to help others stems from my own hardships and I thank each and every one of my downfalls for making me a compassionate human being, with the intent to change the world! If I can get through it, anyone can and I won't stop until I can make a positive difference to the world!
Anjali's story
I have dealt with mental health difficulties since the age of 11. I began receiving support for my disordered eating, self-harm, depression, and anxiety when I was 13 years old. This consisted of a lot of therapy and individual work and now I can happily say I am recovered. I continue working on myself every day to create a life I know I deserve.
My recovery journey began at 13 years old when I finally realised something had to change because I was so sick of the way I was feeling every day. As a young girl, I'd always been a passionate person to strive for success and when I realised that I needed to receive help so I can stop holding myself back and reach my goals, I slowly began responding to therapy. Choosing recovery was the best decision I made. I learnt so much more about myself and began falling in love with myself and the world, without being so critical of everything. Making the choice to wake up every day and at least try to be kind to myself is what allowed me to now be here today helping others.
Recovery is invaluable. Although the journey is long and consists of many ups and downs, finding the inner strength to push forward and finding reason to keep fighting is so fulfilling.
My message for young people is to not pressurise yourself to think 'you should be better by now' I know I fell into that trap a lot, but when I was able to be patient with myself and be kind to myself for taking things at my own pace, that's when I saw the most progress. Take your time, don't lose hope, all the small steps you take will take you far. On the hard days, show even more kindness to yourself and surround yourself with your support system.
You will make it, one step at a time, you will make it.
Jessica's Story
My name is Jessica and I'm a Peer Support Worker with Forward Thinking Birmingham's (FTB) Specialist Eating Disorder Service (SEDS). I am also training part-time to be a therapist/counsellor. I am very passionate about helping others with their mental health. I am also interested in how we can use creative means to express ourselves and improve our general wellbeing – whether through music, art, dance, writing, or any other form of creative expression.
My difficulties with mental health started when I was about 12-13 years old, after my mum sadly died. When my mum passed away, I tried very hard to be there for the rest of my family and probably didn't face my own grief until much later. This led to a decline in my mental health during my teenage years, where I struggled with anxiety, depression, self-harm, and developed an eating disorder. For me, a lot of my eating disorder behaviours were my way of coping with all the overwhelming feelings I was having at the time. When I was about 15, I was referred to CAMHS and started receiving professional support to recover. I found recovery really scary at first. However, after a while, I got used to the idea of regaining a healthy relationship with food. A huge motivator for me was getting better so I could help other people – which I feel proud to be able to do now. Another motivator was being able to dance again (I used to do ballet when I was younger). Thankfully, after some years of hard work and support, I recovered from my eating disorder and learned new, healthier ways of dealing with difficult feelings.
Another huge part of my recovery was learning to show myself compassion.
My motivations changed from just wanting to be well enough to help others, but to do the things I used to enjoy but had little energy for, and to live a better, healthier life. I feel so grateful for all the amazing support I have received from friends and family. Based on my experience of counselling and other treatment with CAMHS, I've now become interested in Mindfulness and Psychology, and even studied Psychology & Counselling at university. This has led me on the path I'm on today, where I'm finishing my training to be a therapist/counsellor and working with FTB as a Peer Support Worker.
Learning to take care of yourself and show yourself compassion is so key for recovery and growth. As is finding who you are, what makes up your hopes and dreams, your passions and interests – finding yourself again. And if that takes some time, that's okay – there's no time limit on recovery and no time limit on finding 'you'.
Get Support
There are many different ways to access Mental Health Support. If you need urgent help, you can call our urgent helpline on 0300 300 0099 and you'll be able to speak to someone. You can also contact the Birmingham and Solihull 24/7 crisis number: 0800 915 9292
If you're struggling and you need to talk to someone, you can do so via the services below:
Pause - If you are under 25 and registered with a GP in Birmingham, you can receive support from one of our Pause drop-ins.
Kooth - a free online service offering emotional and mental health support for children and young people.
The Mix - a UK-based charity that provides free, confidential support for young people under 25 via online, social and mobile.
The Waiting Room – provides an alternative approach to taking control of your mental health
HOPELINE UK - Children and Young People under the age of 35 who are experiencing thoughts of suicide
Samaritans – free and confidential line 24/7
Quick Contact Details
Access Centre Number - 0300 300 0099
Postal Address - 5th Floor, 1 Printing House Street, Birmingham, B4 6DF
Access Centre operating hours - Monday - Friday: 9am - 5pm